Making an incredible home is not as easy as you think.  There are a lot of factors you need to consider when you are planning to build your own dream home. The right construction company can assist you to build high-quality architecture to your expectation.  Are you planning to build your dream home and need help from The Most Cost-Efficient Construction Company In Florida? Your wait is over! If you can dream it, our responsibility is to turn your dream into reality. Having more than 18 years of experience, we are providing top-notch service as a construction company in Florida.
In this article, we'll talk about our custom home building service. Assuming that you have a plan to build your dream house in Florida, let's have a look at what's inside of our residential home building project.
Before jumping into the main section, we would like to share some information.
About Thomasevich Construction Inc. (TCI)
Our beloved owner, Eli Thomasevich, along with his wife Priscilla Thomasevich, started their construction company in 2002. Specialized in commercial and residential construction, we are Licensed General Contractor (CGC 1521790) to provide high-quality building for our potential clients in Florida.
Unlike the other luxury home builders, we provide quality service at a competitive pricing package. We have a good reputation and we always care for our clients. That's the reason we are one of the best home builders in Florida.
Having diverse experience in the construction industry, we know how to build a dynamic custom model or remodel an existing one. We also focus on minimizing your cost, so that there is nothing to worry about.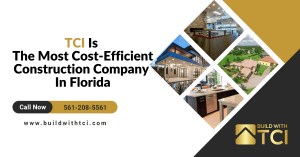 What's Inside In Our Home Building?
Building your own home is a big ambition and we ensure full satisfaction. Our aim is to build high-quality homes that make you happy and adore your neighbors. Now the question is, you'll find many top-rated home builders in Florida, why should you hire us?
Here, we'll mention some key features of our service that sets us apart from other residential construction companies.
We Use The Latest Building Technology
Still, most home builders in Florida aren't aware of taking advantage of the latest building technology. Construction technology is highly emerging and we don't miss the opportunity if something new is emerging. Our expert professionals always keep us up to date with modern integrated systems and we implement them in each and every project. We also use Building Information Modeling that helps us to plan, execute and manage your project more efficiently.
Dedicated Smart Team
Client satisfaction is always our top priority. Once you hire us, we'll assign our talented professionals to get the project done. They'll work on your project, while constantly updating you. Moreover, our customer support team is always happy to help you out. You can easily reach them with urgency.
On-Time Delivery
We know how it feels when you see the project is still ongoing, but the deadline is over. It kills your valuable time and most often it takes more money from your pocket. Before working with your project, we outline the whole process and give you the approximate project duration. We strictly maintain our deadline and always work to build your house before the deadline ends.
Quality of Work
TCI never compromises on quality. Our clients are really pleased and we get many potential clients from the referrals of our happy clients. You can take a look at our previous residential construction to assist in making your decision. No matter whether you need a custom home or to remodel your old one, we always ensure the premium quality that meets your expectations.
Reputation To Build
For more than 18 years, we have been successfully working in the construction industry. Considering the reputation of your preferred company is essential. In that case, Thomasevich Construction Incorporations is always high on demand.
Lowest Possible Price
Is it possible to get premium quality and a cheap rate? You may wonder but it's actually possible with Thomasevich Construction Inc.  Not only are we the best custom home builders but we are also a cost-effective construction company.
Home Building Project Plan We Follow
We are a team of extremely passionate and dedicated professionals who have more familiarity with what's trending now. By the combination of experts and modern technologies, we can ensure your home building project to be efficient, understandable, and properly organized. Apart from the other construction companies in Florida, we don't hide anything related to your project. To remain transparent, we share our home building project strategy so that you can rely on us.
1. Strategic Planning
Our main objective is to unite all stakeholders and staff to successfully complete the focused agreement. Our management includes some basic factors along with deep considerations.
Document Scope
This is our most significant part of project planning, where specific deliverables, project goals, milestones, deadlines, reports, other tasks and costs are clearly written out. Our Documentation of Scope always keeps our team alert about your project details.
Feasibility Study
Feasibility study for project completion is a must. In this feature, we analyze your project's economic, legal terms, conditions, technical tasks, and working schedule. Through this process, you will understand how strong our strategic plan is.
Cost and Time Analysis
All the courses of action taken by us are made to value your cost, we guarantee.
2. Operation Planning
We plan to execute our day-to-day tasks according to an exact strategic plan. Planning operations with a structured master plan is a very big deal for us to persuade our client's expectations. The game plan will direct our personnel to pull off your dream building project.
3. Accurate Project Schedule
Every task of ours is always completed on time. We do resource analysis along with the quantity of the work and estimate the time requirement. Our team executes the project smoothly by overcoming all the obstacles and setting milestones accordingly. We strictly figure out how to do our project by overviewing the schedule of work. With the consent of the client, the scheduling process achieves perfection. We create accuracy for our clients.
Final Thought
Count on us, we'll work on your dream. If you think we can collaborate to build your desired home, let us know. Hopefully, after receiving our preferred service, you'll also consider us as one of the best construction companies in Florida.